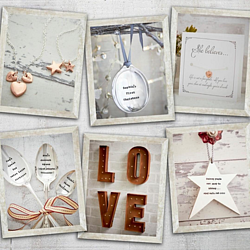 La de da! Living is an award winning British company created by sisters Rita & Dominique from their love and passion for all things pretty but with a unique twist .
Best known for being 'The home of vintage hand stamped cutlery' La de da! prides itself on sourcing vintage cutlery from all over the UK in turn offering our customers something original and unique. The talented team then hand stamp each and every letter into the silver plate creating a true one of a kind keepsake from a piece of our history.
Our ever growing company proudly boasts gracing the shelves in Liberty, working with incredible brands such as Twinings and being stocked in hundreds of fabulous boutiques around the world. Their journey is never taken for granted and the girls love to fondly reminisce of how it all started on Doms kitchen table only a few years ago.
We continuously and lovingly design fabulous ranges to sit alongside our iconic cutlery collection and have recieved amazing recognition for our rustic carnival wall lights, personalised jewellery and greeting cards.
2016 is set to be our biggest year yet and we can't wait to show off our new collections that have been made with love and of course stay true to the core of our brand which is all about creating your personalised story through our products.
Rita & Dominique xxx