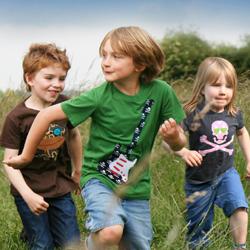 Kushdi for Kids is a new, small independent business, me (and occasionally my husband). We've been around for less than a year. I started selling personalized PJ's and then T-shirts with fun motifs to friends and local mums just to see how they go. It was great seeing all the kids running round the playground in my T-shirts at drop off and pick up time. Unfortunately the school introduced a uniform policy so here we are exploring new markets. We now sell to a few independent shops and lots of local stuff; craft fairs, local markets, mums coffee mornings, etc.

Kushdi For Kids is a design led ethically produced children's range of free hand appliqued, organic T-shirts, hooded tops and PJ's in ages 2- 12yrs. Featuring fun motifs in interesting fabrics. All Kushdi For Kids garments are made in the UK. We're also planning to add some baby sizes to the range so watch this space Having over 20 years experience in fashion design and production, I wanted to produce a range of kids clothes that are ethically produced.

I hope you like what we do.