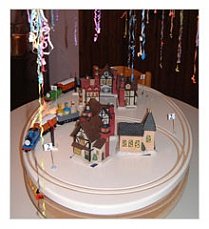 We love bringing together the "very young" and the "not so old" to have fun and play, learning and exploring together.
Traditional wooden toys that intrigue little ones and are fondly remembered by those of older generations are an essential tool for creating bonds and developing relationships that will be enjoyed for years to come.
I love selecting toys that will light up the face of a toddler and bring back happy memories for the grandparents. Some are beautifully hand painted, bright and colourful with a quirky modern twist. Others are left in their natural wood state, giving them a classic timeless feel, making them perfect for a special Christening gift or treasured 1st Birthday present that will be carefully packed away and kept for their children's children!
I am delighted to be working with notonthehighstreet as together, we have a great opportunity to make these beautiful traditional toys available to you. Whatever the occasion I am sure that you will find something here that will delight and intrigue, develop and challenge, remind and reward - whoever you are buying for!
Rachel
- - - - - - - - - - - - - - - - - - - - - - - - - - - - - - - - - - - - - - - - - - - - - - - - - - - - - - - - - - - - - - - - - - - - - - -
Our Story
Knot Toys was started in the Autumn of 1999 when I realised that we had to engage both my "bubbly and wriggly" 4-year-old step-daughter and my very "traditional outlook" parents for several hours over Christmas dinner. We decided that a dinner-table game would be the best option and my husband David designed and made our first "rail adventure" toy - a wooden board with a ready-made train-track routed into it that had pride of place in the middle of the Christmas dinner table. After adding a couple of wind-up trains and some wrapped chocolates in the carriages both generations had great fun guessing where the train would stop after each winding – while we were free to dish-up a (wonderful) Christmas Dinner without being worried about popping back every couple of minutes! Success all round!
Knot Toys has now grown and developed from that initial train track. I select high quality toys that I would buy for my own children (and grandchildren if they come!) and package and despatch them myself from my workshop. I believe in personal traditional customer service - you won't get a standard template email from me - ever! I will respond personally to any queries that you have and I take pride in receiving comments and reviews from you.
I hope you find something that will bring back some memories and light up the face of your little one.