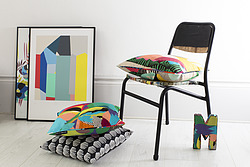 K I T T Y M c C A L L is a UK-born and based interiors and accessories brand.
We work with local craftsmen and British products. At Kitty McCall the emphasis is on quality and integrity so our aim is to use the best materials possible whilst being responsibly sourced.
From limited edition prints to custom furniture, we create innovative designs in sumptuous colour palettes.
Print designer Catherine Nice launched Kitty McCall in 2010 following a successful career in printed textiles.
Her striking use of colour and pattern has seen her prints used by Etro, Thakoon and Anthropologie amongst others.