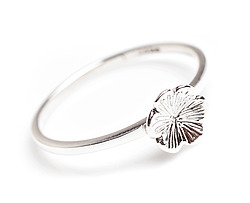 Kirsty Taylor has been making stunning handcrafted jewellery for nine years. She started in 2004 as an apprentice and quickly mastered the skills needed to become a professional jeweller in her own right.
Today Kirsty runs a busy shop in Corbridge in Northumberland.
Her work incorporates traditional jewellery with a quirky edge.
"I am passionate about creating beautiful handcrafted jewellery that will span the generations, something that can be passed down the line as family heirlooms."
She specialises in precious and semi-precious metals, working with silver, yellow, white and rose gold, platinum and palladium. She also uses precious and semi-precious gems.
"Only the most unusual and extraordinary gems make the grade, they need to be show stoppers."
The collections selected for Notonthehighstreet.com are Kirsty's most popular collections, from the strong forms of the Doric collection, personalisable with messages, to the very girly and delicate Bow collection.