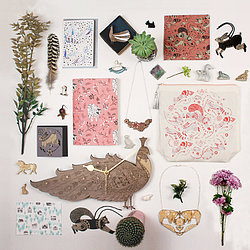 Prism of Starlings is a collection of design-led gifts, accessories, paper goods and decor for your home, designed by Kirsty Baynham and heavily focused on woodland animals. A one-team shop, I print, sew, paint, design, solder, bind, glue, cut and style the majority of my products by hand in my home studio in the West of Scotland. I carefully source my papers, taking into consideration factors like recycled content and ethical production. I'm passionate about the small business ethos of hand-made goods and individuality, and try to create products that have a beautiful texture, created from lovely papers and fabrics, and vibrant inks.
I am an illustration graduate of Edinburgh College of Art (BA Hons 1.1) and created Prism of Starlings after graduating in 2011. My love of stationery, my obsession with pattern and symmetry, and my fondness of animals together manifested into a collection of brightly patterned paper goods and homewares.
Some important things that inspire me are: contrasting colour trios, experimental book forms, postmodern architecture, and local, foreign and mythical wildlife. When not designing, I enjoy learning about animal species and unusual, euphonious words, concrete poetry and writing in general, and all types of music. These interests usually somehow manifest into my work each season.
I hope you'll enjoy browsing my dancing, prancing creatures, suspended in motion among patterned landscapes, as much as I enjoy carefully creating them and choosing how to best narrate their individual personalities.