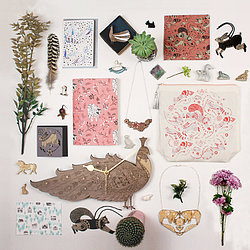 Prism of Starlings is a small stationery and homewares brand established in 2011 by illustrator Kirsty Baynham. The products are individually conceptualised, designed and carefully packaged in my studio in scenic West Scotland, near Loch Lomond, before they make their journey to their new homes.
My designs are influenced by a wide variety of sources, including minimal folk art carvings, Moorish geometric art and tribal patterns. Animal, botanical and geometric imagery happily dominates my printed narratives. Each image is drawn using a combination of processes – pen, ink and watercolour - combined with an attentively selected colour palette.
My aim for the brand remains to cultivate an illustrated collection which evokes joy and inspiration in the viewer, and which helps to cement our relationship with the beautiful creatures with whom we cohabit the earth.