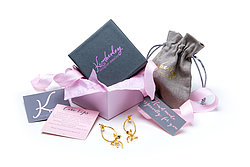 It is not a surprise to her family that Kimberley is a jeweller. She grew up constantly drawing and making things. Kimberley was given her first box of beads and findings by her Grandpa, to whom she was extremely close. She spent hours creating friendship bracelets and necklaces from this special gift.
It was then later at college that she turned her craft into her career. Kimberley went into the metal workshop and started heating bits of metal, twisting and turning them until she made something she thought was beautiful. She was influenced by her love of textiles and pattern; small delicate things were where her passion lay. Using her design skills she translated the pattern and textures of fabric into jewellery.
It was when she graduated with a First Class Honours Degree and exhibited at the New Designers Exhibition that her unique style was recognized; Kimberley was awarded the New Designers Award for jewellery out of 600 other graduates.
Since then she has grown her own business, designed many new pieces, and worked both nationally and internationally. Kimberley has also been a guest designer on QVC, where she sold and presented her exclusive jewellery designs on the television.
Her style is simple, elegant and timeless. Her contemporary designs have some traditional influences and craftsmanship techniques. Her high quality ranges, for both men and women, show her clear desire to create beautiful and wearable jewellery.