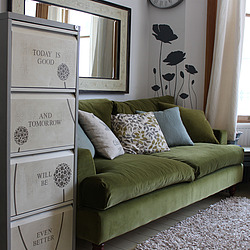 Kiki & Bree Home creates items to beautify your abode! My primary passion are up-cycled filing cabinets. In their original form they are dull and lifeless. However they are also hugely beneficial to any busy home and essential for any business.
My work of painting, adding detail, personalising with an up-lifting slogan and ageing using a crackled finish, transforms this once ugly piece of furniture into a piece of beauty. Practicality and aesthetics are married and this wonderful piece of furniture can finally take centre stage.
Following a furniture painting course, I went in search of a filing cabinet for my home business. I could not find anything inspiring that wasn't extortionate, so I set about transforming my own. My paperwork is now well organised in one attractive cabinet that takes pride of place in my living room. I have been up-cycling cabinets for friends, family members and customers ever since.
These fabulous items are all too often dumped in landfill or destroyed for scrap. You can save another cabinet from this unnecessary fate. They can hold a tremendous amount of paperwork and will completely organise your life; you'll wonder how you ever lived without one!