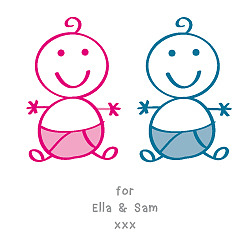 Like so many other new parents it did not take very long for me to appreaciate just how our children and myself as a parent used everything around me to create a happy, educational and fun environment in which I hoped my children would thrive and learn EVERYTHING!
It starts with teaching them about their family, colours, letters of the alphabet, animals, words, colouring, painting. Fridge doors full of their ever increasing talent at writing and colouring. Happiness in playing and doing things together. I found the whole process amazing and rewarding. And Kidscapes was born.
Kidscapes aim is create inspiring environments for children. Environments that reflect a childs age, learning phase or latest craze, environments that are happy, fun and inspiring. Environments that match each new stage of a childs life.
Our collection of prints, wall stickers and personalised stickers are the most perfect way to acheive this. With minimal effort a child's environment can be transformed into whatever you want it to be and when ready for a change they are so simple and quick to update ready for the next adventure to begin.
We take great pride in our products, we spend a long time developing them, our creative team design them, our production team produce them and then pack them. Every product is carefully thought through to ensure we acheive our goal of creating fun and inspiring environments for kids.
We hope you like them too.