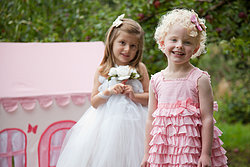 Welcome to Kiddiewinkles. We are passionate about letting children be children for as long as possible. It's easy for children to grow up too fast in our technology driven world. We are committed to fuelling a child's imagination and our products enable children to dream and have fun in their own imaginary make believe worlds. Precious moments of traditional play, creating childhood memories that will last a lifetime is our constant inspiration.
Debbie Hulme, Designer, Director, tea maker and Mum to 2 beautiful children launched Kiddiewinkles so she could design and launch innovative products that inspire children's creativity, encourage children to play until their heart's content, will be enjoyed for years and look stylish in any home or garden!
Our design led playhouses and wigwams offer creative play solutions that will last for generations! Our unique dual themed range of playhouses have intricate hand embroidered and appliqued designs on all four sides of the playhouse so you can turn them around for variety and they offer even more creative play ideas! Our practical yet stylish personalised room accessories make beautiful gifts that will make the recipient smile.