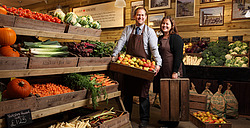 Food tastes better from the farm.
That's exactly what our dad and grandad believed in too – both were devoted farmers and expert butchers. By following in their footsteps, it means that for over three generations, our family has been dedicated to nurturing and celebrating great tasting food. And we want to make sure you can enjoy it too – by making it sustainable and affordable. Everyone who visits us always says 'I wish I had a Keelham near me'. We can't do that just yet but we can deliver our fantastic hampers nationally so everyone can get to try a little bit of Keelham delivered to their door.
We champion over 400 local producers and farmers from Yorkshire and beyond to offer you the tastiest food you won't dfind elsewhere. These people are our friends and neighbours, they help strengthen our local economy, conserve our surrounding countryside. All the items included have been especially sourced to make receiving gifts extra special. Products are sourced from the best local and independent producers and each hamper comes with tasting notes to explain each product and a gift card where you can include a special message.
Everything sold in our hampers is available to buy from our two farm shops in Yorkshire, Keelham Farm Shop, Thornton and Keelham Farm Shop Skipton.
The Keelham Taste Guarantee
We pride ourselves on providing exceptionally tasty gifts. As a way of showing our commitment to great tasting food, all our boxes are covered by a taste guarantee. If you're not completely happy we'll arrange a replacement or refund of that product.