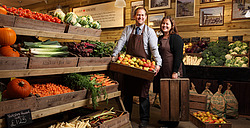 We believe in every single item we sell, knowing it will taste great when it reaches your table. Food should always taste this good. We run our business by doing what 'feels right'. That's hard to quantify and even harder to mass-produce, but that's how we like it.
The Keelham Way is about:
Supporting local producers and farmers. We champion over 400 from Yorkshire. These people are our friends and neighbours, they help strengthen our local economy, conserve our surrounding countryside, and offer the freshest, tastiest food.
Making great tasting food affordable for everyone, everyday. By putting taste and affordability first every time.
Offering exceptional taste with minimal waste by sourcing local and seasonal food wherever possible, we can ensure stock reaches our shop quicker and so is fresher and lasts longer.
Everything in our hampers is available to buy at our farm shop in Bronte Country, Yorkshire. Everyone who visits us always says 'I wish I had a Keelham near me'. We can't do that just yet but we can deliver our fantastic festive hampers nationally so everyone can get to try them.