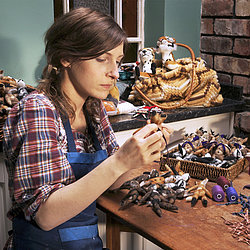 I am an illustrator and designer maker based near Preston. I love incorporating my illustrations within hand made items and using my creative skills to make unique and distinctive gifts.
Everything is designed/ illustrated/ made with love by my own hands.
I like to play on traditional and vintage themes with the main emphasis (in most cases) being animal anthropomorphism. I hold a great love for animals and always enjoy bringing them into my work creating them as quirky and sometimes surreal characters.
You will find that most of my items are a limited quantity or are one-off pieces, due to the nature of everything being handmade.
Relish and cherish all things handmade!