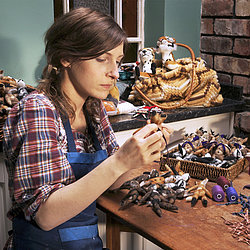 Welcome to the wondrous illustrative world of Kayleigh Radcliffe.
From being creatively minded from birth and filling her childhood head with anything whimsy, antique and animal related, her interests have now merged to form her unique one woman brand.
Educated in illustration and playful with making things, she made her dream come true by setting up her own creative small business in 2013. She is now an illustrator and a designer maker of handmade whimsical pieces, mostly based around the themes of anthropomorphic animals with a touch of antiquity.
Her aim is to handcraft and design quality timeless pieces which yearn to become your family heirlooms. Keeping away from the mainstream she works from her own creative mind often touching on her love for the Victorian and Edwardian eras, keeping her brand distinctive.
Based within the Preston countryside alongside her cat, dog and tame garden birds, she designs and hand makes her products herself, packing them full of character, individual personality and charm. Each handcrafted item you purchase is made with true love and great attention to detail by Kayleigh.
Having designed and handmade Christmas decorations for Harrods, being recently featured within the Period Living magazine, and a decoration appearance in The London Magazine too, good things are only just starting with Kayleigh Radcliffe!