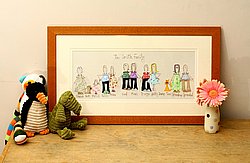 Katy is situated in a lovely little village called Mawdesley in the heart of rural Lancashire, in a dreamy converted pig farm named Cedar Farm Gallery.
Katy has been working from her studio for the past 10 years, producing beautifully quirky bespoke handmade machine embroidered gifts including handmade cards, pictures, keepsake boxes, family trees, blankets, cushions, door names and height charts. All can be personalised to help you mark that special occasion such as a birthday, wedding, christening, new arrival and of course Christmas.
Katy's work is inspired by day to day life, and her family and friends. A sketch book is never far away from Katy as she can often be found creating a new theme or range. Commissions are very welcome, where your ideas and thoughts can be transformed into Katy's little people.