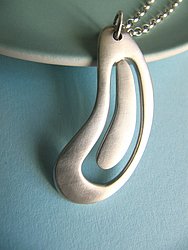 Katrina Alexander designs and makes beautiful hand made contemporary silver jewellery from her Brighton workshop. Her work is not mass produced, thereby customers can be assured of wearing a piece of jewellery that will not be seen on many others. Her capsule range of silver jewellery is a perfect combination of strong, elegant style and superb craftsmanship.
Inspired by the shapes and forms of everyday, simple objects, Katrina's designs become beautiful, flowing pieces that are bold and solid, smooth and tactile. Their outlines are soft and curvy – no jagged edges here to catch and snag – making the Infinity collection both striking and easy to wear.
Katrina's passion and dedication to her work is borne out in her attention to every part of the design and production process. Each stage is carried out with care and patience and a determination to make every necklace, bracelet and ring look and feel fantastic. Sleek, heavy necklaces; eye-catching rings and small, rounded pendants – these are wonderful contemporary accessories which are stylish yet timeless. Every piece of the Infinity collection could become a favourite: your faithful, wear-anywhere necklace... the statement ring which is saved for special days and always gets noticed... a dramatic, leading-role pendant. There are no fleeting fashion pieces in Katrina Alexander's work, just fabulous quality, extremely good-looking jewellery.
Wearing Katrina's jewellery is not just about beautifully made and designed accessories; the love and commitment to the craft of jewellery-making is also apparent in the look and feel of the Infinity range and it is this holistic, artisan element which gives Katrina Alexander's collections their identity: beautiful, meaningful and perfectly made.
Her jewellery is sold through galleries and jewellery shops around the country.
Selected for an award for the 2011, 2012 and 2013 Craft&Design Selected Awards, Katrina won a Silver Award for the Jewellery and Precious Metals Category in 2014.
Katrina is a member of the Association of Contemporary Jewellery (ACJ).
Press includes:
Rebel Magazine, Jewellery Wish blog, Retail Jeweller, Making Jewellery Magazine, Jewellery Focus Magazine, Attire Accessories, Craft&Design Magazine, Department Store Monthly & Gift Focus Magazine. Also featured in Vogue, Tatler and GQ.