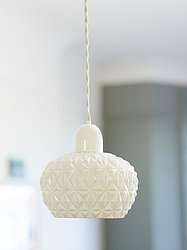 Kathleen Hills is a designer of fine bone china lighting and tableware which is beautifully British made.
After setting up business in 2002, Kathleen has built up an impressive and extensive range of beautiful lighting and tabletop products. The products have been featured in many publications and have received various awards.
Kathleen's lighting has been used on many exciting projects: The new Asos Headquarters, The Heron Tower Café, Whistles, Gourmet Burger Kitchen and Jack Wills.
Having grown up in a manufacturing family, with her parents founding one of London's last remaining die and sand casting foundries, Kathleen grew up with patterns and moulds in the home around her. Kathleen is fascinated in the process of making and it's connection with industry. Her work draws on ideas of Britishness, promoting the quality of craftmanship and the process of manufacture.
Kathleen has a 1st class honours degree from Central St Martins and an MA from the Royal College of Art.