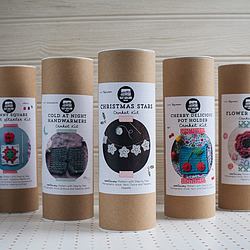 I am a Scotland-based crochet maker designer, who specialises in modern and fun knit- and crochetwear for children and adults.
I am inspired by play, dress up, fairy tales and the landscape of Scotland. Where possible, all of my materials are ethically sourced in the UK, and I am passionate about supporting other independent businesses when I can.
My items are all designed and made with the highest attention to detail, so they are not only fun to make, but also easy to wear. If you are making your own from one of my kits or buying a readymade item for a loved one or yourself, I try to fill the entire experience with joy. I want everything to be right, every step of the way - from design, to materials, to final packaging, your purchase should be enjoyable.
My work has been featured in Etsy's Spring 2012 Lookbook, Parenting Magazine (US), Inside Crochet, Bambino Goodies and Ideal Homes magazine. My first book, Crochet at Play with Kyle Books, is out in April 2013.