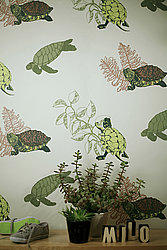 Hi and welcome to Kate Usher Studio. We are a small, bespoke textile and surface design studio based in North East England. We design luxury wall-coverings, which are intended to be ageless, timeless and elegant with a playfully cool and quirky edge.
As a parent, Kate herself felt frustrated by the lack of imagination on offer in the form of textiles and decoration for children's rooms. Feeling un-inspired by the reams of tasteless character licensed products or the predictable themes and motifs churned out year after year by high-street brands, Kate made it her mission to break the mould.
Children require stimulation, through colour, pattern and inspiring pictures. However, when decorating their homes, many parents lust after a unique and tasteful interior which they can feel proud of, and don't want to have to compromise on these design ethics when it comes to their kids bedrooms.
At Kate Usher Studio, we strive to create innovative and exciting patterns for interior spaces which cater to the needs of both style savvy adults and their fun-loving children.We believe in bridging the fantasies of children and the tastes of adults to achieve a more liveable, creative and unique family home.