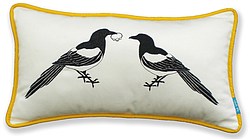 Having grown up with a love of embroidery, surrounded by handmade toys and gifts in a creative home, Kate has always understood the value of craftsmanship and a beautiful item made with love. This is why today Kate strives to incorporate this understanding of a high quality finish into every product in her collection.
Drawing on experience within the textile field and as a freelance designer, Kate has demonstrated her hand embroidery skills in such prestigious settings as Fortnum & Mason, London. Now focused on opening up her love of embroidery to a new audience, her passion for both traditional and contemporary techniques are translated into fresh and modern designs for the home.
Offering a range of interior products all handmade within the UK, Kate uses the highest quality materials available to create beautiful textile pieces. Attracted to bold motifs, clean lines and crisp colours, a product from Kate Sproston Design will be sure to add that special designer touch to any room.