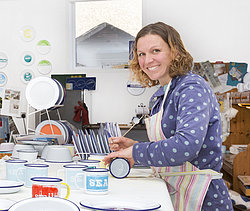 Kate is a designer maker who works with Enamel to produce bold, vibrant and innovative pieces. Recent collections of distinctive colourful enamelware offer a piece of practical artwork! Selected collections are only on offer exclusively to notonthehighstreet.com and being an independent maker, each piece is hand crafted from her studio in Kent.
Kate is intrigued by the transferral of 2D mark making onto metal surfaces. Themes within the work are developed from extensive drawings, sketchbooks and visual recordings from many trips to the seaside.
Her work is a modern twist on a traditional craft producing practical and affordable pieces of artwork. She is always exploring and developing new techniques and interpretations of enamel as a craft and art form.
Each piece of enamelware is hand painted and individually made. There is an attention to detail and a tactile surface quality. Striking vivid colours and memorable imagery creates an unusual and possibly a personalised gift.
Enamel is durable, permeable and individual medium which can be used indoors or outdoors! Ideal for special occasion use such as parties or camping! Or just purely for decoration.