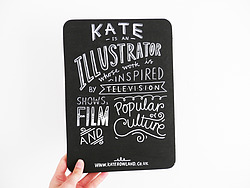 Hello, and welcome to my shop! I'm Kate, an illustrator and designer who lives and works in the East of England.
My wooden designs are inspired by my favourite films, television shows and popular culure. I make unique, playful pieces that can be worn everyday and reflect a little of their owner's personalities! Each design is drawn by hand, before being engraved into a beautiful, lightweight poplar plywood and finished or hand painted. I love working with wood as it's super tactile, and gives each piece of jewellery a unique appearance.
If you have any questions or comments, please get in touch!