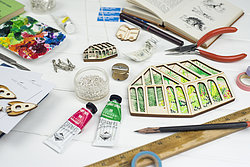 I'm Kate, I run my independent jewellery design studio from my home in Northamptonshire. I studied illustration and bring my love of drawing into the jewellery.
Each piece begins life as a drawing, and I works to retain the hand drawn aesthetic through the precise laser cutting process.The result of experimentation with drawing surfaces at university lead me to create playful, wearable illustrations. From making wooden brooches for friends inspired by their favourite tv shows, I now works on the business full time and stock my work in lovely independent shops around the world.
My design ethos is to create playful, conversation-starting jewellery made from ethically sourced materials.Materials and manufacturing: Each piece is made from responsibly sourced plywood and British manufactured jewellery findings. Each piece is finished, painted and assembled by hand.
Things I like; my labradoodle Barney, growing vegetables, running long distances, plants, camping, cheese, sleeping, cycling, gin & lemonade, museums.
If you have an idea or a commission in mind, I would be delighted to hear from you. I can create custom jewellery designs, paint you a picture, or draw a portrait of your face.