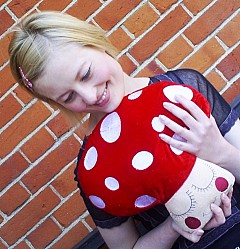 I'm a designer, artist and crafter based in the UK. I studied fine art and textiles at The Sixth Form College Farnborough, but I have always been creative since I was young.
I'm drawn to the more quirky, cute, weird and wonderful things and I love to take everyday items, such as a tea cup, and add winking eyes and blushing cheeks to make instant cuteness.
I'm also inspired by the more enchanted things in life and all my designs have some sort of character to reflect that.
I set about designing my brand in October 2007 and by May 2008 my brand was born. Everything is made in limited numbers so it makes every piece even more special.
All my products are beautifully made with quality fabrics. I want my brand to appeal to a person's fun side as well as the bold prints and colours to make a fashion statement.