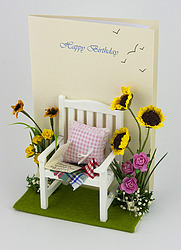 Karrie Barron made her first 3 D card in 1995. Her vision was to create unique, luxury cards that resemble something of the real world in miniature form. Cards to celebrate all of life's occasions, to be kept forever, treasured, admired and stand the test of time. They were an instant success, and although Karrie has now retired, the cards are still lovingly made by her daughter Tilly who continues to execute her intricate, quirky designs with the same eye for detail.
In this world of mass production these cards are tailor made to your specific needs. They are unique and made with love and care, and will be both a joy to give as well as to receive.
All designs are hand crafted in London by the small team at Karrie Barron Cards. They come boxed with a ribbon tie and are available exclusively through notonthehighstreet.com.