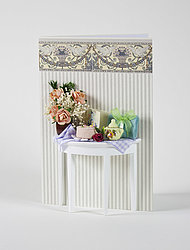 Karrie Barron started as a Greeting Card designer in London in 1994. Her range has since been sold exclusively in Harrods and The Apple Market, Covent Garden, and in recent years her shop in Hampstead London.
The family run business specialises in personalised luxury cards and gifts to celebrate all of lifes ocassions. With unrivaled attention to detail, intricate and original designs, our range of luxury cards and gifts are a pleasure to both give and
The greeting card ranges are hand crafted in London by the small team at Karrie Barron. Our range of gifts are hand picked for their originality, can be cutomised and personlaised making them as unique as our in house products. They all come boxed with tissue paper and a ribbon tie.