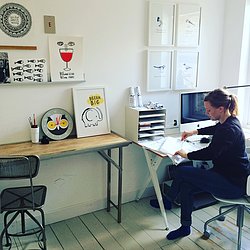 Welcome to Karin Åkesson Design, the online shop of Swedish born designer Karin, producing stunning homeware and stationery products from her studio in Walthamstow, East London.
Inspired by her Swedish heritage and her love of sayings, expressions and memories, Karin creates beautiful items for the home which put emphasis on the sunny things in life, making her pieces the perfect gift for friends and loved ones (and ourselves of course!).
Karin moved from Gothernburg to the UK in 1997 to study Art Foundation at KIAD, Maidestone. She then went on to complete her BA (Hons) Illustration degree at Brighton University, and her MA Communication in Art & Design at the Royal College of Art before establishing her homeware and stationary business.
All products are made here in the UK from Karin's East London studio.