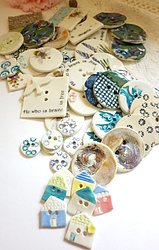 Karen Turner, a Designer/Maker based in Northamptonshire. I completed a BA (Hons) Design Crafts Degree in June 2010 and specialise in unique decorative ceramics, mixed media artwork and one of a kind ceramic buttons. All of my work is handmade in my home studio and I primarily work with porcelain to create my pieces.
I am a born romantic and have a love of all things vintage and you will find elements of both creeping into my work. I collect vintage magazines, stamps, postcards and lace and often use them as a starting point for ideas. I use slip casting, press moulding and hand building techniques to create work but my latest range of tea sets and wall hangings uses thin torn porcelain pieces impressed with vintage lace.
All of my pieces, including my buttons, are one offs or limited edition but if you would like to order more than one of a particular piece then please get in touch as I am more than happy to take commissions. If you have any queries regarding my work then please do not hesitate to contact me.