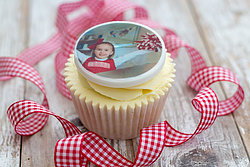 Welcome to Just Bake. At Just Bake we're passionate about baking - we've developed a range of elegant and sophisticated cupcake toppers that add a beautiful finishing touch to your cupcakes. Your cupcakes will become the talking point of any party!
Our range of cupcake toppers allow you to add a personalised message to your cupcakes for a special occasion. For example, if you're planning a hen party, our Hen Party Cupcake Toppers detail the name of the hen and the date of the hen party.
Customer service is at the heart of everything that we do - if you'd like us to produce some cupcake toppers with a bespoke design or message, simply contact us - we'd love to have a chat and design something extra special for you.
"They really stole the limelight at the party & I would recommend this to everyone"
Just Bake was created in 2012 by Jo Shaw, a mother of two daughters with a passion for baking. Jo wanted to create a company that offered a wide range of beautiful, personalised cupcake toppers that were often difficult to find on the high street.
Products from Just Bake have been seen in many baking and craft magazines - Making Cakes And Bakes, Love Baking and Crafts Beautiful.