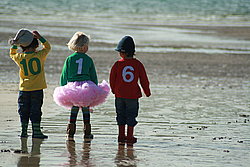 There are few images that are more iconic than Bobby Moore with the World Cup in 1966 wearing his famous red number 6 shirt and it's that image that's the inspiration behind the children's brand Jumpers4goalposts. Football is often referred to as the beautiful game, but at Jumpers4goalposts we believe that it's life itself that's the beautiful game ... and a game that's too short for our kids to be wearing static-filled, polyester football shirts.
The collection includes a series of retro-inspired football shirts made of the highest quality cotton. In addition to the red England-style shirt, there's an iconic Brazil-style shirt which carries the number 10, a 1960s inspired blue Italian shirt, an orange Dutch-style number 14 shirt and of course all green goalkeeper shirt with number 1 on it.
The brand was created by two friends Justine and Jo, and although neither actually played international football they do know how hard it can be to find quality, retro-inspired clothes for kids.