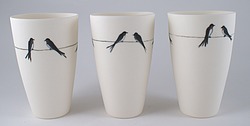 Julie Miles is pleased to be able to bring her unique ceramics to you through notonthehighstreet.com. Having started her studios 16 years ago Julie has exhibited in galleries and exhibitions across the UK and in Europe and would like to be able to offer you a chance to buy her ceramics direct from the maker.
Julie's work is diverse in her use of clay working with architects on large scale projects in brick to her small and tactile range she has displayed here. Her enthusiasm for clay shows through in all her work and her love for the unglazed surface.
She describes her works as 'Sculptural and functional porcelain made to be loved and used by all. This new range of work has been inspired by my garden and the surrounding country side'.
This smooth silky unglazed parian, a type of porcelain, has been used for its qualities of whiteness and translucency to create simple but elegant forms to compliment the watercolour drawn motifs from her sketchbook.
New ranges are being developed all the time and the Cow Parsley and Feather ranges are being offered here first before Julie starts her summer shows. This year Julie will be exhibiting at The Contemporary Craft Festival at Bovey Tracey in June and also RHS Tatton Park Flower Show. Julies profile image of the first Swallows of Summer will be launched within the next few weeks to coincide with the return of the swallows and swifts from their winter break in Africa signifying that Summer is most definitely on its way.
All the work is created to be used and is water tight and dishwasher safe. * More New work coming soon!