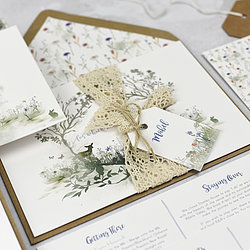 My aim is simple: to illustrate happiness!
I graduated back in 2001 with a First Class Honours in Illustration and since then have gained a wealth of experience as a Graphic Designer for an Advertising Agency, a freelance Illustrator and a College Course Leader of Graphic Illustration.
I set up my full time business in 2012 and am now entering my 6th year of being a Not On The High Street partner. I have to say every year just gets better and better, I've been lucky enough to work with brides the length and breadth of the UK as well as Italy, France, the USA, Hong Kong, Singapore and Australia and 2016 saw me make the exciting move from working at home to having my own studio in Croft Myl, West Yorkshire.
I specialise in creating stationery that is truly personal to my couples, many of my collections begin with working one to one with a client to develop something unique to suit their big day.
My days revolve around getting messy with paint, playing with pretty ribbons and chasing around my 3 year old daughter (and sometimes all at once)! I'm a little bit (hugely) obsessed with 'pintrest' and thrilled as I am with my new studio - my design brain will always work best sat on the sofa in front of Lorraine...
If you have any questions I'd be delighted to hear from you!
Julia x
Studio Working Hours: Monday 9am - 3pm, Wednesday 9am - 3pm and Friday 9am - 4pm