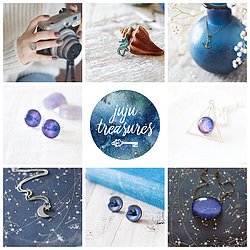 Juju Treasures: Romantic and minimalist handmade jewellery created with vintage inspiration and modern design.
Based in Manchester, Juju Treasures is a handcrafted costume jewellery collection created by designer-maker Julie Bebris. Our pieces are simple, elegant and quirky and come with an affordable price tag. Our minimalist pieces are perfect for every day wear while our romantic items are great for any sort of special occasion.
Juju Treasures is a perfect place to find a lovely treasure for yourself or an unusual and personal gift for someone else. All the items in our shop are created with loving attention to detail and are made to order specifically for each customer
Thank you for visiting and please don't hesitate to contact us if you have any questions!