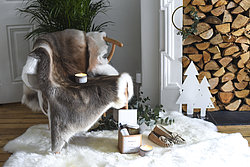 Jord Home create textiles for a laid back, contemporary home. Jord translates across the Nordic countries as 'Earth' or 'Ground' and represents our uncompromising commitment to using natural materials in our designs.
Our designs are based on a parred down pallet of greys, muted blues and white, to create a sense of light and space in your home. We are inspired by the Danish concept of 'Hygge'. There is no literal translation into English, but Hygge is about creating an environment that evokes a sense of well being through the use of texture, natural materials and light – natural light in the Summer and fire and candlelight in the winter months.
All our rugs are crafted by hand on traditional wooden looms, using cotton, jute and wool. Our textiles are flat weave, so the design is the same on both sides, doubling the life of the rug. We source natural hides from the Sami people, a nomadic tribe travelling across the fells of Sweden, Norway and Finland following the rhythm of the seasons. All of our hides are handpicked. We are delighted to work with clients & interior designers to source bespoke hides, ranging in shade from earth brown tones through to grey.
Our designs have been featured in Homes and Gardens, The English Home, Vogue and Sunday Times Style Magazine. Our designs are consistently rated as 'excellent' by our customers and our hides enjoy reviews describing them as 'like silk, beautifully soft and shiny, much softer than I had expected.'