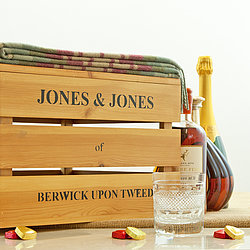 Jones and Jones of Berwick-upon-Tweed creates beautiful hampers using Champagne, Fine Wines, Rare Aged Whiskies and uniquely crafted artisan products. Our hampers are beautifully adorned with ribbon and can be persponalised with handwritten kraft or slate tags.
Our wooden cases, garden planters, and wicker hampers have been carefully selected to ensure that they are of the finest quality, so that they can be treasured by the recipient for a second use. Many have been handmade or hand finished by local craftsmen to ensure that our offerings reflect the commitment that we have to excellence.
Where we source products from further afield, we aim to source from ethical traders who ensure a fair price is paid.
A gift purchased from us cannot be purchased from any other retailer. We source and combine the best from niche local producers. We have handmade chocolates from artisan Kiki's Chocolates of Coldingham; jams, traditionally handmade, without unnecessary additives, by Willow Cottage Preserves of Lowick, Northumberland. We have coffee roasted in Berwick-upon-Tweed and tea from slightly further down the road in Alnwick, we source Northumberland's own Bari Tea!