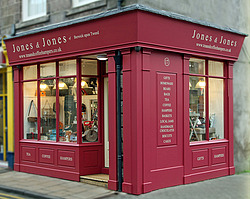 At Jones and Jones of Berwick-upon-Tweed, we pride ourselves on creating treasured gift collections and bringing these, along with traditional shopping values and excellence, to the convenience of online shopping.
A gift purchased from us cannot be purchased from any other retailer. Our gift collections are unique and have been carefully curated by us to make the recipient feel indulged. Each gift is hand wrapped with care, embellished with traditional touches, such as luxury ribbon or a leather tag, and securely dispatched.
Our wooden cases, garden planters, and wicker hampers have been carefully selected to ensure that they are of the finest quality, so to be treasured by the recipient for a second use. Many have been handmade or hand finished by local craftsmen to ensure that our offerings reflect the commitment that we have to excellence. Where we source products from further afield, we aim to source from ethical traders who ensure a fair price is paid.
We combine the best from niche local producers. We have handmade chocolates from artisan Kiki's Chocolates of Coldingham; jams, traditionally handmade, without unnecessary additives, by Willow Cottage Preserves of Lowick, Northumberland. Further down the road from Alnwick, we source Northumberland's own Bari Tea!