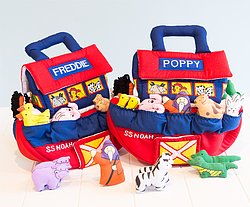 Everything at Jolly Fine is about what children love and what appeals most. Here, you will find beautiful, high quality, personalised towels, fabric toys, baby books and children's clothing to bring true joy to a special child, who will treasure your gift for years.
I began Jolly Fine in the Cotswolds in 2009. My background is as a dress designer but, with two young daughters growing up, I was inspired to change direction and begin Jolly Fine. My mother (also a dress designer) assists and offers the perfect 'grandmother's point of view'.
Our range of personalised towels and children's clothing is completely bespoke and your gift can be appliqued with a motif and embroidered child's name to order.
When I discovered the Pockets of Learning range of fabric soft toys, I just knew I had to become their exclusive UK distributor. Each product is heirloom-quality and is characterised by its play and learning value. We can personalise many of the fabric books and toys too.
Finish off your purchase with our gift-wrapping choice and we will ensure that your child's gift is beautifully presented from you. We are flexible, so please contact us if you would like something unique or if you require a gift quickly. And keep visiting Jolly Fine – we add new products all the time.