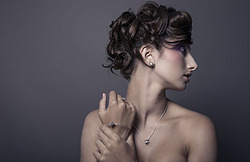 Jodie Hook Jewellery is a stunning range of individual contemporary jewellery that make a statement on and off the body.
Each piece is made by hand in Wales, with much love, using sterling silver and beautiful semi-precious stones.
The ribbon range is simplicity with a twist. The structured pieces have an altogether softer edge and are based on the shapes and curves found in satin ribbons and bows.
After completing her degree in Jewellery and Silversmithing in Birmingham Jodie moved to London where she worked for a fashion jewellery designer for nearly 7 years. She then relocated back to her home town of Cardiff and began her own business in 2008.
Her award winning jewellery can be found in boutiques, galleries and gift shops throughout the UK.