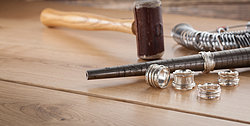 Joanne Tinley Jewellery crafted is to last lifetimes, designed with care to be cherished and passed down the generations, yet intended to be worn every day. A gift of love, a precious reminder of the birth of a child, an 18th birthday treasure, or a simply a treat for yourself to celebrate how unique you are.
Each piece of jewellery is designed and created by Joanne Tinley in her Hampshire studio. Joanne uses traditional silversmithing skills, and larger pieces of work are hallmarked at Goldsmiths' Hall in London. Joanne's favourite technique is Keum Boo, a Korean technique that permanently bonds 24k gold to fine silver and it is this technique that she uses in her popular Golden Collection. Many of the textures that feature in the jewellery come from Joanne's growing collection of hammers, some of which are older than she is. Her favourite hammer gives the 'silver birch' texture that appears on many of her bangles, Woodland creatures and spinner rings.
Each piece of jewellery is beautifully presented in a chocolate brown box and ribbon. Gift messages can be handwritten on the tag, and items sent directly to the gift recipient at your request.