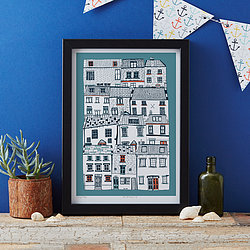 Personalised and design led prints, stylish greetings cards, colourful textiles, melamine coasters and eye catching wallpaper.
Jessica Hogarth brings her unique and quirky collection of designs to notonthehighstreet.com, fresh from her illustration studio in beautiful Whitby, North Yorkshire. Shop for personalised prints that are exclusively available on Not on the High Street.
Featuring her hand drawn illustrations, digitally enhanced with stylish colour schemes, the range is inspired by a blend of coastal life and the inspiring places Jessica has visited. Jessica works hard to maintain her individual illustration style, and takes pride in each and every design she creates. Each product is assembled and packaged in house, ensuring standards remain high.
All Jessica Hogarth products are manufactured in the UK, an industry she is keen to continue supporting.
Alongside running her Not on the High Street shop, Jessica undertakes freelance illustration work for a wide variety of clients. Recent collaborations include Marie Curie, Oxfam and The Wall Street Journal.
"She has a truly individual style, and her body of work is extensive. Coastal themes are perennially popular and she has a distinctive voice," Jethro Macey, designer, and curator of New Designers One Year On exhibition 2012.