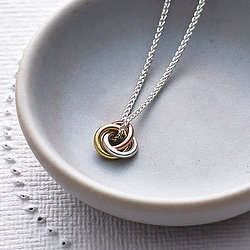 Jessica Greenaway designs and makes her own jewellery from her workshop in Sussex, following an initial career in prop making and costume design for theatre and television she started working as a professional jeweller. She has experience in making artisan wedding, engagement and eternity rings.With many years experience in gold-smithing and creating bespoke pieces for several high profile jewellery shops across the country. She has also had her work showcased at the renowned London jewellery show 'Treasure'.
Working for different jewellery designers in various capacities for over 12 years, Jessica has now become a well-respected designer in her own right and 6 years ago began creating and selling her own collections both online and in jewellery stores.
All designs are hand made in her workshop to order. Bespoke or commissioned work can be undertaken - simply contact for further information.