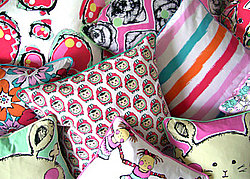 'jessica graham' was launched in 2009 with an exciting range of cushion covers in her signature style. It is these cushions that got her noticed at Top Drawer that same year, where she won 'Best New Children's Product' for her Bunnies Cushion.
Following on from the success of this design, an entire range of 'Bunnies' products are now available. Products include blankets, hooded towels, washbags and bib sets.
Framed prints featuring numerous different designs are also available, and all of these can be personalised with the name of a loved one.
All of the products are designed by Jessica in her South London studio.
©2009 Copyright Jessica Graham, All rights reserved.