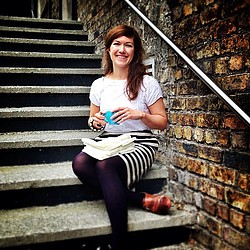 Jennifer Slattery has won numerous awards for her textile products for the home. Most recently she won the Craftsmanship Award 2013 from the Crafts Council of Ireland.
Jennifer worked as a graphic designer for five years before returning to The National College of Art & Design in Dublin to study textile design specialising in embroidery. Her previously differing career paths now converge as she creates textile products for the home from her studio in Dublin. Jennifer's collections feature digital printed imagery and embroidery, her product ranges comprise tableware, cushions and throws.
Her most recent collection, 'An Imperfect World' is inspired by her grandmother's house where she now lives, the trinkets that link us to past memories, the ornaments and objects of past generations, worthless in monetary terms but precious and cherished heirlooms. Jennifer's work is informed by an appreciation of heritage and what has gone before. She is attracted to flaws, broken edges and the imperfections that exude 'character'.
"I appreciate pieces that have survived the test of time. My work is a celebration of the everyday heirloom."