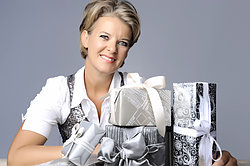 Her company was born in 1995 from the kitchen table, now Jane Means is a Global Gift Wrapping Expert with clients travelling worldwide to attend her courses.
The company have provided a luxury gift wrapping services and training for Selfridges, Fortnum and Mason, House of Fraser, Dior, Chanel, Jo Malone, Harrods and at the Country Living Fairs amongst other events. She has also wrapped a gift for the Queen and personally gift wrapped for various celebrities (She won't disclose names)
Jane has designed a range of her own ribbons and other gift wrapping accessories, as well as being a Keynote speaker, TV presenter, stylist and blogger. Her book 'giftwrapped' has been published worldwide in several languages.
She has a passion for excellent presentation and is always designing new products from her studio. She is based in the UK and Singapore.