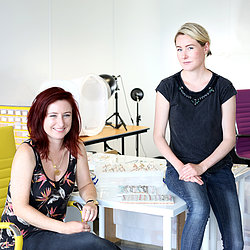 Affordable British designed personalised jewellery. A bespoke collection of 'Design Your Own' cluster charm jewellery, unique bridesmaid gifts and layered necklace trends.
J & S Jewellery is the brainchild of Jenny and Sophie Laslett, sisters who have collaborated to create unique, bespoke fashion jewellery. Their focus is to integrate contemporary design while accentuating femininity and individuality. Exploring themes such as celestial, zodiac, elemental and many more, J&S Jewellery prides itself in creating symbolic, meaningful pieces of jewellery and their innovative utilization of Swarovski crystals, making every jewellery piece distinctive.
Their specialisation, however lies within the vast choice of exclusively designed and personalised charm jewellery. Beautifully presented in our exquisite gift card and packaging, you the customer has the opportunity to create a truly personal gift.
With over 10 years experience designing jewellery for the high street, Jenny Laslett has established J & S Jewellery from her home in Norfolk, with the intention to compose original, high quality fashion jewellery. With the help of her sister Sophie and her award-winning photography and graphic design expertise, they have succeeded in creating a stunning, ever growing collection of boutique fashion jewellery, as well as significant special occasion gifts.
Jenny & Sophie hope you enjoy their range as much as they enjoyed designing it!