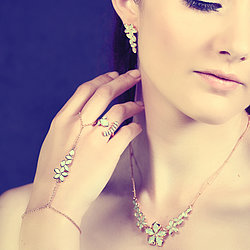 Affordable British designed personalised jewellery. A bespoke collection of design your own cluster charm jewellery, unique bridesmaid gifts and layered necklace trends.
Jenny Laslett has been designing commercial jewellery for the high street for the past 10 years. After deciding to return to her Norfolk roots she made the bold decision to design and manufacture her own range of jewellery. Jenny's sister Sophie, a photographer and graphic designer chose to join her by contributing her skills and knowledge hence creating J&S Jewellery.
J&S Jewellery was born 3 years ago, and both sisters have collectively designed and sourced their first range. All items in the collection are of the highest quality and designed with a unique touch. Our aim as a company is to offer original boutique style jewellery which is fashion forward and contemporary in design.
After 10-15 years of working in the commercial world J & S are really excited by their fresh & diverse collection.
Jenny & Sophie hope you enjoy their range as much as they enjoyed designing it!