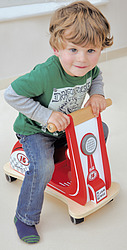 Welcome to Jammtoys, we are a supplier of quality wooden toys direct from the award winning UK toy designer Indigo Jamm.
Indigo Jamm produce lasting toys that are designed here in the UK, using high quality and sustainable materials such as rubber wood. These toys inspire long lasting fun whilst encouraging development through safe play.
Our toys often have a quirky or retro style to them and our range includes Junior Magazines best toy design (0-2 years) the Jamm Scoot. Indigo Jamm have designed a number of toys specifically for younger children with the Noahs Wooden Ark, Bernies Bus and the Jamm Scoots suitable from 12 months plus. It is refreshing to see toys that appeal to younger children being specifically designed and safety tested for children under three.
We hope the children you give our toys to enjoy playing with them as much as our own children have.