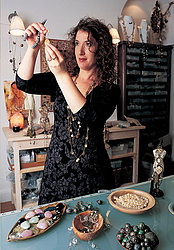 Welcome to Jamie London - the brainchild of New York born jeweller Jamie Rubin.
Jamie, now living in London with her family, discovered her love of beads and jewels at just seven years old whilst travelling in Venice, when she took a visit to a local Italian market. After moving to Arizona to study jewellery design she began creating bespoke, statement pieces for private clients, before relocating to London and launching her first self-titled collection in 2004, gathering a celebrity following including Victoria Beckham, Sienna Miller and Kylie Minogue.
After a decade of creating exclusive Jewellery, Jamie wanted everyone to benefit from her designs and began selling her personalised Jewellery through Not on the High Street. Jamie's designs reflect the youthful travels that played an influential role in the development of her eponymous style; A little nostalgic, bursting with vitality and a twist of ethnic influence. A lovingly curated range of hand selected and hand-made jewellery, designed, created and packaged to the highest standards.
Her designs combine timeless jewellery pieces with the ability to customise; be it by adding initials, birth or gemstones, freshwater pearls, Swarovski crystals, or you can write your own message to be inserted into lockets, or on a display card, making Jamie London's jewellery the perfect idea for a gift or a little bit of self-indulgence! At Jamie London, our aim is to ensure that each individual who wears their exclusive piece of jewellery feels special and extraordinary, so that they can embody style, individuality and confidence in their own unique way.