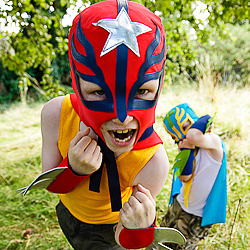 The inspiration for iwishiwasa… struck costume designer Tamsin Thorne whilst watching her (then) young son playing. By age 4 he was already an enthusiastic dresser-upper and accomplished (if eclectic) stylist. Armed with nothing more than a marigold glove, an old fur hat and a stick, she saw how his dressing-up games allowed him to enter his own reality full of adventure and imagination.
Noticing a gap in the market for costumes with an emphasis on quality and good design, she set about creating a collection of dressing up accessories aimed (initially) at boys. Her background as a costume designer & maker, a textile designer and her experience as mum to a small boy placed her in a unique position.
Demand came first from friends but rapidly grew and iwishiwasa… was born.
Our mission is to create original, beautiful, vibrant and fun costumes which capture the imagination and allow children to "become the creator of their own world". We are a small team producing small batch runs, which are finished in-house by hand at our studio in South London
Designed with kids in mind, iwishiwasa's costumes are hardwearing and easy to wear as well as being heirloom pieces to keep and treasure forever