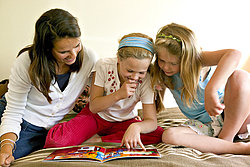 Itsyourstory is a family-run business based on the edge of Exmoor in Somerset.
We are passionate about producing inspiring, engaging books. Interest children in books from a young age and you send them a powerful message. Books are fun, books take you into different worlds and fuel the imagination, books will be your companion through life.
Personalisation immediately sparks a child's interest. Not only is the story about them but the child features in the illustrations. In the early years the pictures have as much impact as the words.
With over ten years' experience in the industry we offer the most comprehensive range of photo-personalised books in the market. Across fifteen titles we have something for everyone including:
Educational books – such as our recently launched Alphabet book
Birthday books – including our best-selling 'Now One' and 'Now Two' books
Christmas books – 'Snowman Adventure' and 'Where's <Name of Child>?'
Father's Day/Mother's Day book – Zoo Adventure book featuring Mum/Dad in the illustrations and up to three children in the story.
Make reading fun, relevant and engaging with a personalised book which will be treasured for life!