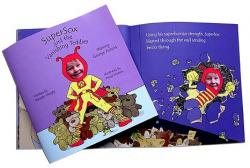 Itsyourstory launched in 2004 and was the first company in the UK to specialise in photo-personalised children's books. We now have a range of 18 books as well as photo-personalised clothes, water bottles, mugs and posters.
Our range includes the best-selling 'Now One' and 'Now Two' books which celebrate a child's first or second birthday, the SuperSox book where the child is transformed into a fearless superhero and our Fairy Girl book for all the budding fairies out there!
Our aim is to foster a love of books and reading in children from a young age. By making the child the star, you immediately grab their attention by making the book fun and relevant.