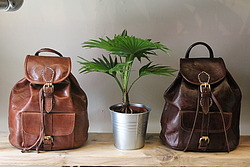 Our History

We are an established handmade leather bag company based in London, trading in well know areas such as Camden, Brixton and Spitalfields. Our popularity rocketed in 2014 due to the uniqueness of our bags which you won't find on the high street.

Ismad started in 2003 when founder Isabelle found inspiration in handmade products in Marrakech/Morocco; the discovery of how unique each product was due to the hand crafting methods and it was exactly this that she fell in love with. From this inspiration, bringing old and new together is what we are about.

Our Design

We are creatives designing and producing bags inspired by vintage design but with a contemporary twist, which creates a balance between modern functionality and fashionable flare. Ismad London is a family run business, where every member contributes to different aspects of the company. Everyone keeps a close eye on detail, and ensure the bags get that same unique handmade feel, as if they were produced 100 years ago in Britain.

Our Leather

We source the highest quality leather which is then hand cut from patterns and pieced together by our dedicated team of artisans who use traditional tools and techniques without a hint of modern machinery or hi-tech finishing.This process allows us to create a beautifully unique product just for you!