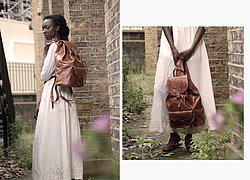 Ismad London started when its founder, Isabelle, fell in love with handcrafted leather goods in Northern Africa. On her travels she found herself getting lost in the colourful markets and watching artisans at work which inspired her to start the handmade leather company that you see today.
-
Still today, all of our collection has been lovingly handmade by using traditional 1000 year old techniques by our skilful artisans. We are advocates of keeping it real at Ismad, and we don't believe in using harsh chemicals when treating our leather. Choosing to be a chemical-free company means that you won't find any of the nasty chemical Chromium in any of our products.
-
What makes us special is we've been doing this for well over a decade and our experience is reflected in the quality of our work. Our leather takes months instead of days to cure and no two of our products the same. Each one of our leather products has been lovingly hand crafted and they are as unique and individual as the people who buy them. Like us humans, our bags have their own individual characters.
-
Discover more on ismad.co.uk