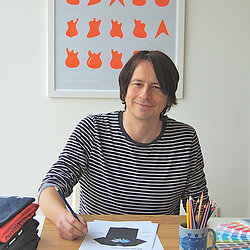 Here at Invisible Friend we love the fact that the humble t-shirt wields the power to instantly say something about the wearer.
A Vivienne Westwood t-shirt, purchased in my early 20s gave me the bug for t-shirt design. Firstly I loved the design – it featured the iconic shape of the British Isles, which always looks great – but in addition to that it appealed to my love of maps and my inherent pride in the country that I come from. On top of that it was printed in reflective ink which added an extra layer of interest and cool. Maybe it wasn't such a simple garment after all?! I realized then that that is what good design can do – something seemingly so simple can appeal on lots of different levels. The seed was sown…
I scoured Ebay for second hand screen-printing gear, bought myself a book titled 'Printing for Beginners' and Invisible Friend was born.
I hand-printed my first series of t-shirts using a bunch of rickety old wooden screens in the back room of our cottage in Devon. That initial run of t-shirts sold out quickly (well, most were probably given away to be honest…) and received rapid acclaim. A well-known t-shirt blogging website described each design as being like 'a mini work of modern-art', and Evan Dando of The Lemonheads wore one of our shirts onstage to collect an NME Award.
Our style is probably a bit less 'edgy' now than it was then, but still at the absolute heart of what we do is the desire to make designs that say a little bit about the passions of the wearer in a quirky and interesting way.
A t-shirt can make a great for gift for someone, and we aim to make products that the recipient will love because the subject matter, design and quality resonates with them like that t-shirt did with me all those years ago.
Ian, Invisible Friend