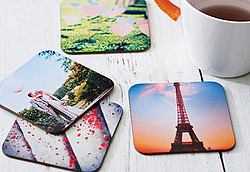 We love to take photos and take great pleasure in sharing them with friends, family and colleagues alike. Take your photos from the screen and send them to print to a unique range of products at Instajunction. Not just boring stuff you can buy on the high street, but fun and exciting things that are sure to stand proud in any situation. So do something exciting with all those great looking pictures you've got hidden away on your computer and the internet. Take advantage of our wide range of personalised gifts, home accessories, wedding stationery and much, much more.
From framed photo prints, to ornamental bottles, coasters and magnets we've got something perfect for anyone in any situation, no matter the occasion, event or celebration. Indulge yourself in our delights!
We provide fantastic quality and speedy delivery anywhere in the world, and all at respectable and sensible prices.