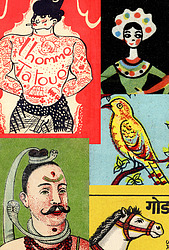 INK & SONS was established in 2013 by Rosy and Dan Mogford, a husband & wife team with backgrounds in textiles and graphic design. The company was born out of a love of vintage printed ephemera and packaging. This, combined with a passion for vibrant typography, is the driving force behind Ink & Sons and our ever expanding range of high quality art prints.
We're based in a small studio in South London where we surround ourselves with original mid-century packaging, posters and graphics and draw constant inspiration from this.
All of our prints are produced individually on a professional giclée art printer which creates wonderfully rich and saturated colour on beautiful heavyweight art paper. The prints are museum quality and light fast for up to 100 years.
If you'd like to discuss any aspect of our range including bespoke prints or wholesale enquiries, please don't hesitate to contact us.