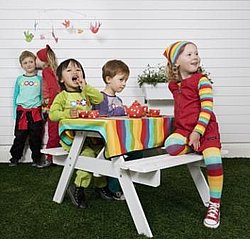 Here at Impkids we are on a mission to track down children's clothes that tick all the practical boxes and also score high on style. So functional, but also funky and fun!
Kids are by nature active, inquisitive, mischievous creatures - little imps in fact! So they need clothes that are easy to get on and off.The kind that can be chucked in the washing machine time and time again and don't lose their shape or colour. Great quality, pass-me-on items made from materials that are environmentally sound and ethically sourced.
So, which clothing brand fits the bill? Villervalla, from Sweden. Villervalla is a brilliantly designed range of children's clothes for ages 0-10 that is full of colour, charm and Scadinavian chic. Wear it well and enjoy!