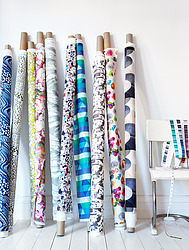 Imogen Heath is a UK design studio that specialises in creating beautiful decorative fabrics and surface patterns for interiors, all designed and made in Britain.
Imogen combines traditional artistry with digital technology to create the print designs, which are rich with both geometric and organic motifs.
Using an instinctive and honest approach to design, Imogen hopes she can create long-lasting collections, with patterns well placed in every home.
The aim is to build a wholly sustainable and ethical business, so the materials and techniques used are very carefully considered. All products are made by hand to the highest possible standard, using the best quality materials.
Thank you for visiting, Happy shopping!